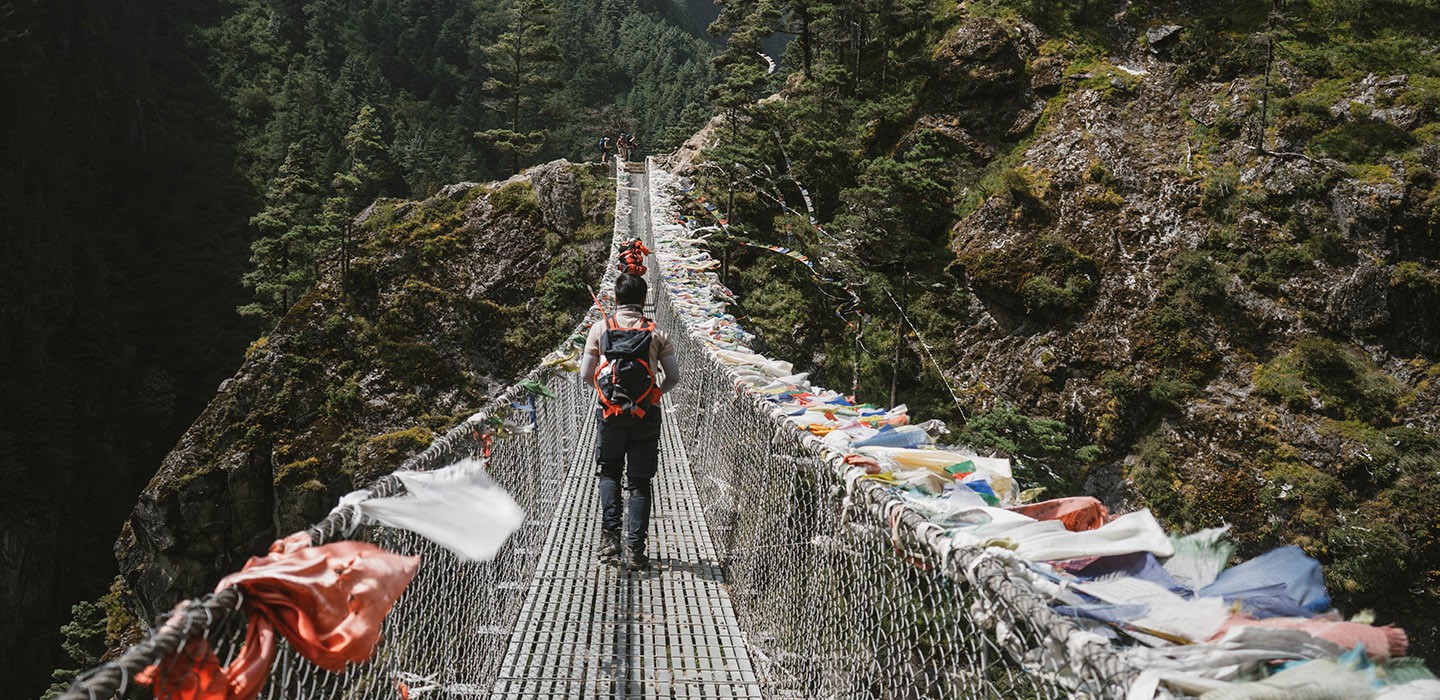 Now that we're here, a Wild Guanabana rep will be waiting outside the airport gates to take us to our hotel. Depending on when everyone arrives, we'll plan to have our briefing meeting once we've settled in.
Good morning! We're transferring to the airport to board one a stunning 45-minute mountain flight through the Himalayas. From Lukla (2,652 m), we trek downhill toward the Dudh Koshi (Milky River) – a raging river that flows from the glacier of the highest mountains. This fairly easy and well-marked trail meanders around the fields of potatoes and wheat, passing through many traditional villages to reach Phakding. After about three hours of trekking, we'll spend our first night in Phakding.
We start our 5 – 6 hour trek after breakfast, passing through pine forest, rhododendron, magnolia, and cultivated terraces to get to Sagarmatha National Park in the mountain capital, Namche Bazaar. Spectacular mountain peaks like Nupla (5,885 m), Kongde Ri (6,093 m) and Thamserku (6,808 m) rise majestically above us throughout most of the day.
It's important to spend an extra night at Namche Bazaar for acclimatization purposes before venturing higher. We'll do a short day hike up to the Everest View Hotel in Shyangboche at 3,833 m for stunning views of Ama Dablam and Mount Everest. Average trekking time is 2 hours.
We leave for our 4 – 5 hour trek to Thyangboche (3,780 m) early in the morning after breakfast following a trail around the ridges for some spectacular views of Ama Dablam. Everest can be clearly seen on the horizon before we descend through splendid rhododendron forests for lunch. After lunch, we cross Dudh Koshi River once again and begin a long winding ascent that takes us to the famous Buddhist monastery of Thyangboche – built in 1912 and considered the spiritual and cultural center of these highlands. The monastery has been recently re-built with the assistance of Sir Edmund Hillary after it was destroyed by fire in 1989. As this area is a devout Buddhist region, the wildlife is unharmed so there is always a possibility that we may see some wild animals such as musk deer, mountain goat, and pheasants in the forest. Average trekking time is 4 to 5 hours.
The trail now ascends up to Imja Khola before an easy climb along a wide open trail to a small mountain village named Pangboche, sitting at 3,901 m. We may take a slight detour to visit an old monastery where Lama Geishi gives his blessings to those attempting to stand on Sagarmatha's highest point. Then we gradually head uphill to Dingboche at 4,365 m as the trail passes through the valley surrounded by awe-inspiring mountains. Our average trekking time for today is 4 to 5 hours.
Walking on barren slopes above the tree line, our 4 – 5 hour trek will have us see impressive peaks like Cholatse, Lobuche, and Pumori unfold before us. Rock Cairns dedicated to the memory of climbers who have died attempting the world's highest mountains can be seen at Dugla Ridge. Further up, we begin to follow the longest glacier in Nepal – the Khumbu Glacier – to the Lobuche settlement at 4,955 m for our overnight stay. We will feel the temperature drop here as we become more elevated and exposed to the upper slopes of the valley.
The trail follows the rocky moraine of the Khumbu Glacier toward the high settlement of Gorak Shep at 5,395 m where we stop for lunch before continuing our journey toward Everest Base Camp at 5,340 m. We'll be spending some time here taking in the view before we descend back to Gorak Shep for the night. This spectacular village is surround by beautiful mountains, including Pumori (7,145 m), Lingtren (6,697 m), Nuptse (7,745 m) and of course Everest (8,850 m). Our average trekking time today is 7 to 8 hours.
We're up early this morning to climb Kalapattar at 5,545 m, which can take anywhere between 2 to 3 hours. If the weather's on our side once we reach the top of the hill, we may be treated to one of best views of the great black pyramid that is Mount Everest. We then embark on our 8-hour descent into the village of Pheriche at 4,252 m.
Headed on a roughly eight-hour trek back to Namche Bazaar at 3,440 m, we'll make a stop at Pangboche Monastery – the oldest in the region – if we haven't done so already on the way up. Otherwise, we can stop at the village to admire the view of Ama Dablam.
We're retracing our steps along the Dudh Koshi River – a beautiful and easy walk through pine and rhododendron forest with a view of Kusum Kanguru. Climbing out of the river valley, we head back to Lukla at 2,652 m to savour our final mountain sunset after around 6 hours of trekking.
We're boarding our beautiful flight through the Himalayan mountain range bright and early this morning to get back to Kathmandu. We're transferred to our hotel upon arrival and have the remainder of the day to explore the city freely. Today also acts as a buffer in case our flight to or from Lukla is cancelled for weather reasons.
There are plenty of interesting sites to visit in the Kathmandu valley, like Bhaktapur, the Old Palaces at Patan, Durbar Square, Swayambhunath (The Monkey Temple), or you can choose to wander into downtown Thamel to shop for souvenirs and sample the various restaurants of Kathmandu.
Today we're being transferred to the airport to catch our flights back home

Weather
EBC is a hike that can be done anytime of the year except for June-August which is the monsoon season so it is very difficult to go during these months. Peak season is in October as this offers the best weather, sunny and not too cold at night. This lasts till December when the winter season starts running through February. Winter season offers pretty cold nights and moderate temperatures in the morning of around 20c at lower altitudes and can reach to -10 at higher altitudes. March to May is when spring starts and the temperatures start to rise up to 30c with clear skies and blossoming flowers. April and May are the climbing season for mountaineers who are attempting higher mountains in the region especially Everest.

Accommodation
In the city you will be staying in the center of the Touristic area in Kathmandu where you will just step out of your hotel and find all the hussle and bussle of Kathmandu's Thamel. Once you reach Lukla, you will be hiking from one village to the next and spending your nights in tea houses which are family owned guest houses for trekkers passing along the way. Rooms are double or triple with beds and blankets to keep you warm. All tea houses have a main room where all hikers gather for meals, briefing, playing card games or just to chill. They are all heated with a huge fireplace in the center so you will definitely be warm. All of them have wifi available for purchase as well as electricity (at an extra cost) for those who want to charge their cameras, phones...etc. Most of them also sell snacks, energy bars, juice and water.

Food
During the hike, you will have 3 meals, all energy based to help give you the required nutrients for hiking around 7 hours a day. Breakfast and dinner are prepared by the tea houses and lunch is taken at other guest houses along the way while hiking. Nepali mountain food is very delicious and has its own flavor, we recommend you go for the Dhal Bat which is a typical Nepalese dish and very high on energy. Try to stay away from any meat during the hike.

Hiking
To reach Everest Base Camp you don't need to be an experienced hiker nor an olympic runner, but you do need to be fit enough to hike for 6-7 hours daily, sometimes going up stairs, sometimes slopes and sometimes just crossing bridges. It is not a super difficult hike but it's not easy either so its' better to be well prepared to be able to enjoy the hike more. The rewards you will get after completing each day will just keep you motivated for the next and push you towards the base camp.

Altitude
Everest Base Camp stands at an altitude of 5,380m, which can be quite high for someone who hasn't been at this altitude before. However, this trip is designed to help you acclimatise in the best way possible to avoid any altitude sickness problems. You will be gaining more altitude each day as you go higher but at a moderate speed so your body will have enough time to get accustomed to the lower oxygen levels

Scenery
The scenery on this hike is breathtaking and indescribably beautiful. You will be passing along many ecosystems on this hike, this makes the hike a lot more interesting with a constant change in scenery.
best time to travel:
Jan
Feb
Mar
Apr
May
Jun
Jul
Aug
Sep
Oct
Nov
Dec
Ideal time to travel
Good time to travel
Unpredictable time
No trip
PRICE INCLUDES
Price based on 4 pax

Meals as mentioned in the itinerary (Breakfast = B, Lunch = L, Dinner = D)

Domestic flight from Kathmandu to Lukla (airport tax)

All transport to and from destination

All accommodation based on double basis

Porters to carry all personal gear and group equipment

Experienced English-speaking guide and first aid trained local guide

Trekking permit

All porters are first-aid trained with access to becoming a guide within the organization.



PRICE EXCLUDES
International flight
Visa Fee
Excess baggage & Airport Taxes

Single Supplement fee
Personal & Travel insurance
Vaccinations
Bottled Beverages
Gear rental available at additional cost (Let us know if you would need any)
Tips and Gratuity
The EBC trek was a truly spectacular experience, through some of the most breathtaking terrains I have ever seen. The guides were amazing - friendly and highly experienced (our head guide summited Everest 4 times) - with Omar Samra leading the way. It was a challenging trek but the company made it highly enjoyable; our group was big, loud and full of energy all the way to the top :) I would highly recommend this experience to anyone.
An astonishing hike in the heart of Himalayas, a great renowned leader such as Omar, and supremely awesome company! what else you may wish for when you sign up for a hike! I enjoyed every bit and second of it
Trekking the Himalayas has been a dream for me for quite some time, finally I did it last May (2017) on Omar Samra's 10th year anniversary summiting Everest (that was definitely an honor to get to know him and hear about his journey while trekking the same route he walked 10 years ago). Obviously, it took me some 6 months to write the review (: but that was probably due to me digesting the trip - yes its that awesome! Personally I'm a different person after the EBC trek - so its literally a "life changing journey". EPIC is an understatement for the overall experience we all had - from the surreal views/terrains of the Himalayas to the Nepalese people to the WG team. On a more specific note, trekking EBC with WG gives you the best guides, porters, service and a very good level accommodation. One can easily notice the difference between our guides/assistant guides and others - the knowledge, service, professionalism and above all nice/witty and fun. I highly recommend visiting Nepal whether its EBC or any other trail - you'll definitely fall in love.