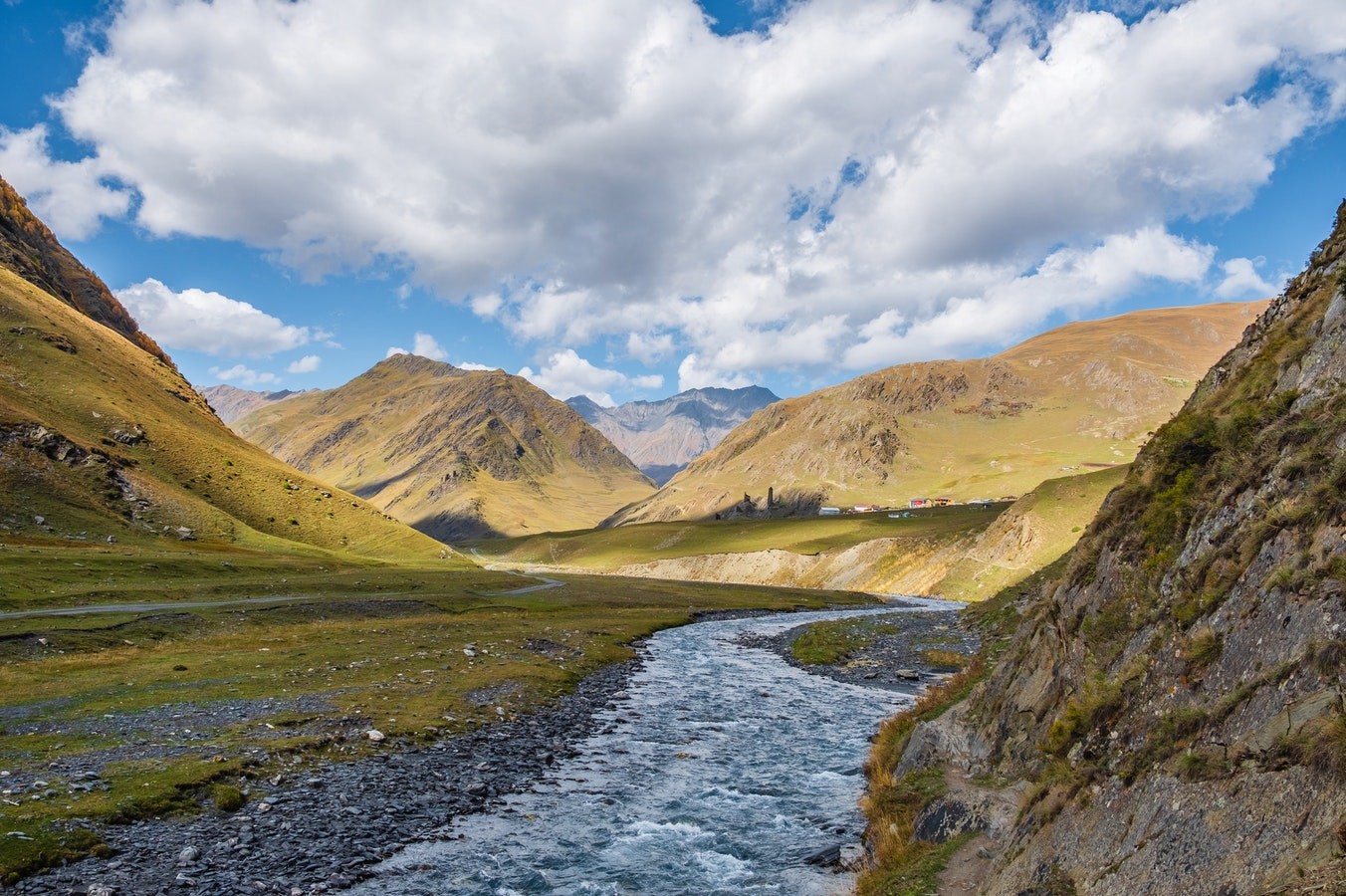 Meet at the airport and transfer to accommodation hotel
Meeting at hotel 8 a.m. and Drive to the village Shenaqo 2080 m. (6,5 - 7 Hour driving). Overnight in guest house in village Shenaqo 2080m. Meal:B/L/D
Trekking Village Shenaqo - Village Drtlo 1850m. (6 - 7 hour Trekking). We will start walking from Shenako and via pass Diklo and Chigo. Overnight in tents near vil. Dartlo 1850m. Meal:B/L-box/D
Tracking Dartlo 1850 m - Girevi 2100m. (4 - 5 hour Trekking). Overnight in tents. Meal: B/L-box/D
Tracking Girevi 2100 m. - Qvakhidi 2400 m. (5 - 6 hour Trekking). Overnight in tents. Meal: B/L-box/D
Tracking Qvakhidi 2400 m. - Camp 2800 m. This day we will pass Atsunta pass 3430 m. (6 hour Trekking). Overnight in tents. Meal:B/L-box/D
Tracking Camp 2800 m. - Ardoti 1500 m. (4 - 5 hour Trekking). Overnight in tents. Meal: B/L-box/D
Tracking Ardoti 1500 m. - Shatili 1400 m. (4 - 5 hour Trekking). Overnight in Tower (Shatilian traditional house). Meal:B/L-box/D
Transfer: Shatili- Tbilisi (4 hour Driving) Overnight in hotel to Tbilisi. Meal:B/L
Transfer to airport to catch your flight heading home

Weather
The ideal weather for this trip begins from the second week of July up until early September. The official season begins in June (when the lake is still frozen) lasting until late September. Ideally though we like sending our clients when there is the least amount of rain and clear skies with stable weather. This would mean it is sunny and warm during the day and relatively cold nights.

Accommodation
Upon leaving the city behind, we will be staying in tented camps throughout the hike until returning once again to the city. Our experienced guides and assistant guides will be taking every step to ensure your stay is as comfortable as possible, from the delicious and fresh food to the camping areas we will be sleeping at.

Food
During the hike, you will have 3 meals, all energy based to help give you the required nutrients for hiking around 4-8 hours a day. (Need to contact supplier to know exact food)

Hiking
You don't need to be an experienced hiker to go on this trip. Even though, if this is your first hike, it will be challenging, some multi-day hiking experience before the trip would make this far more enjoyable.

Altitude
Most of the hike is below 3000m apart from one day. That day we will cross a mountain pass at 3430m.

Scenery
Expect to see endless green meadows to subalpine forests and mountain passes, but it will be impossible to convey the true sense of beauty you will find on this journey. Prepare to have all your senses engaged.
best time to travel:
Jan
Feb
Mar
Apr
May
Jun
Jul
Aug
Sep
Oct
Nov
Dec
Ideal time to travel
Great time to travel
Unpredictable time
No trip
PRICE INCLUDES
Airport pickup
All ground transportation
Baggage carrying by horse during the whole tour
Guide & assistant service
6 nights in tents
3 nights in hotel
2 nights in guesthouses
Meals as mentioned above
First-aid kit
All permits and park entry fees
PRICE EXCLUDES
International flights
Airport tax
Extra porters
Visa fees
Personal snacks
Tips and gratuity