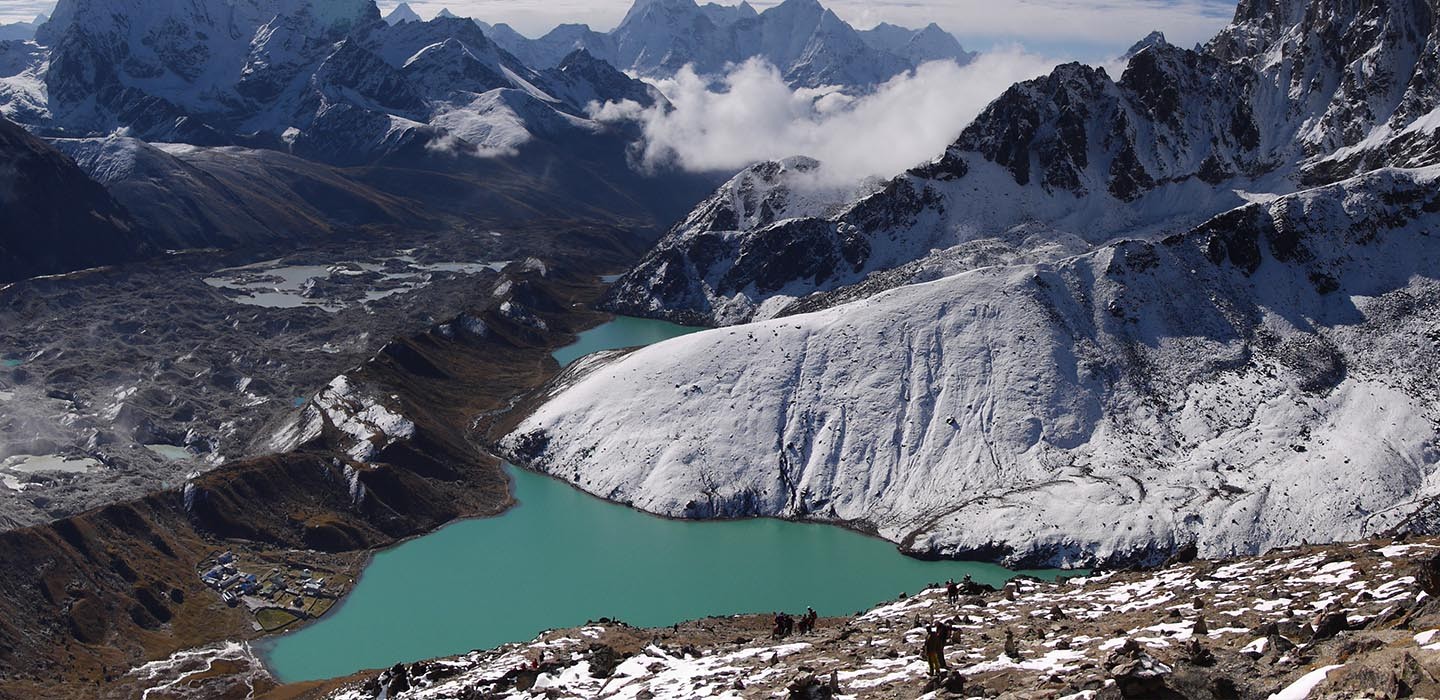 Now that we're here, a Wild Guanabana rep will be waiting outside the airport gates to take us to our hotel. Depending on when everyone arrives, we'll plan to have our briefing meeting once we've settled in.
Good morning! We're heading to the airport to board a stunning 45-minute mountain flight through the Himalayas. From Lukla (2,652 m) we trek downhill toward the Dudh Koshi (Milky River) – a raging river that flows from the glacier of the highest mountains. This fairly easy and well-marked trail meanders around the fields of potatoes and wheat, passing through many traditional villages to reach Phakding. After about three hours of trekking, we'll spend our first night in Phakding.
We start our 5/6 hour trek after breakfast, passing through pine forests, rhododendron, magnolia, and cultivated terraces to get to Sagarmatha National Park in the mountain capital, Namche Bazaar. Spectacular mountain peaks like Nupla (5,885 m), Kongde Ri (6,093 m) and Thamserku (6,808 m) rise majestically above us throughout most of the day.
It's important to spend an extra night at Namche Bazaar for acclimatization purposes before venturing higher. We'll do a short day hike up to the Everest View Hotel in Shyangboche at 3,833 m for stunning views of Ama Dablam and Mount Everest. Average trekking time is 2 hours.
We leave early in the morning after a hearty breakfast on our trail to the village of Dole. We will trek upwards around 300 meters over a ridge and continue on mostly flat ground to Dole. Once we have reached the ridge, we are rewarded with the most striking views of Giants such as Cholatse, Tawoche, and Kanguru.
The trek to Macchermo is long and occasionally over steep terrain. We will take our time and rest at one of the many teahouses along the way. Macchermo is known for its simple and humble people, as well as Yeti sightings, so keep your eyes open! It also offers the most visually striking views of the east wall of Kyajo Ri, a peak our very own Hazem Shamy has climbed in 2017.
On this day, we reach what is probably the most beautiful spot on planet earth; Gokyo. We will pass by the first of the 4 lakes after an hour's trek, followed by 2 more until the major lake with Gokyo village residing on its east bank. We will get our first look at giants like Cho Oyu, an 8000 meter mountain on the border with Tibet, and Gokyo Ri, our objective for the following day.
After a light breakfast before dawn, we will head out guided by the light of our headlamp through the cold and dark, headed for the summit of Gokyo Ri at 5,357 meters. After a 6-hour uphill trek, we will arrive with the sun to the most beautiful viewpoint in the Himalayas. Stretching out across the jagged horizon, you will get full blown views of Everest, Lhotse, Nuptse, Cho Oyu, Makalu, Cholatse, Nirekha, and hundreds of snowcapped peaks. This moment will be the culmination of the 8 previous days and, trust us, it will be worth every step! After taking pictures and enjoying the view, we will head back down to catch lunch at Gokyo village.
A long day but one with an even larger perspective of the Himalayas. We will cross the Renjo La pass, again at 5,300 meters and descend almost 800 meters down the other side towards the Thame valley. After seeing all the north faces of the mountains we will be trekking under, we will now get views of their south faces, which is like being in a completely new region. You will notice the different colors of the rhododendrons and the massive vertical walls of rock and ice on either side. We arrive at Lungden, a remote and rarely visited village with a strong cultural heritage and feel.
We will continue our trek down the valley to the village of Thame at 3800 meters. The lower we go, the warmer it gets, the better we feel! You will notice the reappearance of trees, a simple view but one that is most welcome after a few days at altitude.
We return to Namche Bazaar, completing our loop. Warm showers and delicious meals await!
We continue lower down the valley and head for the long walk back to Lukla. We will spend one more night at Lukla to catch our flight back to Kathmandu the following day.
Fly Back To Kathmandu [1,338m], arrive in Kathmandu early in the morning.
After breakfast and depending on the time of your flight, you will be taken to the airport for your flight back home.

Weather
The Gokyo trek can be done anytime of the year apart from the period of June to August, as a result of the monsoon season. Peak season is in October and offers the best weather, sunny and not too cold at night. This lasts till December when the winter season starts running through February. Winter season offers pretty cold nights and moderate temperatures in the morning of around 20c at lower altitudes and can reach to -10 at higher altitudes. March to May is when spring starts and the temperatures start to rise up to 30c with clear skies and blossoming flowers. April and May are the climbing season for mountaineers who are attempting higher mountains in the region especially Everest.

Accommodation
In the city you will be staying in the center of the Touristic area in Kathmandu where you will just step out of your hotel and find all the hussle and bussle of Kathmandu's Thamel. Once you reach Lukla, you will be hiking from one village to the next and spending your nights in tea houses which are family owned guest houses for trekkers passing along the way. Rooms are double or triple with beds and blankets to keep you warm. All tea houses have a main room where all hikers gather for meals, briefing, playing card games or just to chill. They are all heated with a huge fireplace in the center so you will definitely be warm. All of them have wifi available for purchase as well as electricity (at an extra cost) for those who want to charge their cameras, phones...etc. Most of them also sell snacks, energy bars, juice and water.

Food
During the hike, you will have 3 meals, all energy based to help give you the required nutrients for hiking around 7 hours a day. Breakfast and dinner are prepared by the tea houses and lunch is taken at other guest houses along the way while hiking. Nepali mountain food is very delicious and has its own flavor, we recommend you go for the Dhal Bat which is a typical Nepalese dish and very high on energy. Try to stay away from any meat during the hike.

Hiking
To reach Gokyo you don't need to be an experienced hiker nor an olympic runner, but you do need to be fit enough to hike for 6-7 hours daily, sometimes going up stairs, sometimes slopes and sometimes just crossing bridges. It is not a super difficult hike but it's not easy either so its' better to be well prepared to be able to enjoy the hike more. The rewards you will get after completing each day will just keep you motivated for the next and push you towards the base camp.

Altitude
Gokyo Ri stands at an altitude of 5,380m, which can be quite high for someone who hasn't been at this altitude before. However, this trip is designed to help you acclimatise in the best way possible to avoid any altitude sickness problems. You will be gaining more altitude each day as you go higher but at a moderate speed so your body will have enough time to get accustomed to the lower oxygen levels

Scenery
The scenery on this hike is breathtaking and indescribably beautiful. You will be passing along many ecosystems on this hike, this makes the hike a lot more interesting with a constant change in scenery.
best time to travel:
Jan
Feb
Mar
Apr
May
Jun
Jul
Aug
Sep
Oct
Nov
Dec
Ideal time to travel
Good time to travel
Unpredictable time
No trip
PRICE INCLUDES
Price based on 6 pax
Meals as mentioned in the itinerary (Breakfast = B, Lunch = L, Dinner = D)
Domestic flight from Kathmandu to Lukla
All transport to and from destination (Non A/C Car)
All accommodation based on double basis
Porters to carry all personal gear and group equipment
Experienced English-speaking guide and first aid trained local guide
Trekking permit
All porters are first-aid trained with access to becoming a guide within the organization.
PRICE EXCLUDES
International flight
Visa Fee
Excess baggage & Airport Taxes

Single Supplement fee
Personal & Travel insurance
Vaccinations
Bottled Beverages
Gear rental available at additional cost (Let us know if you would need any)
Tips and Gratuity