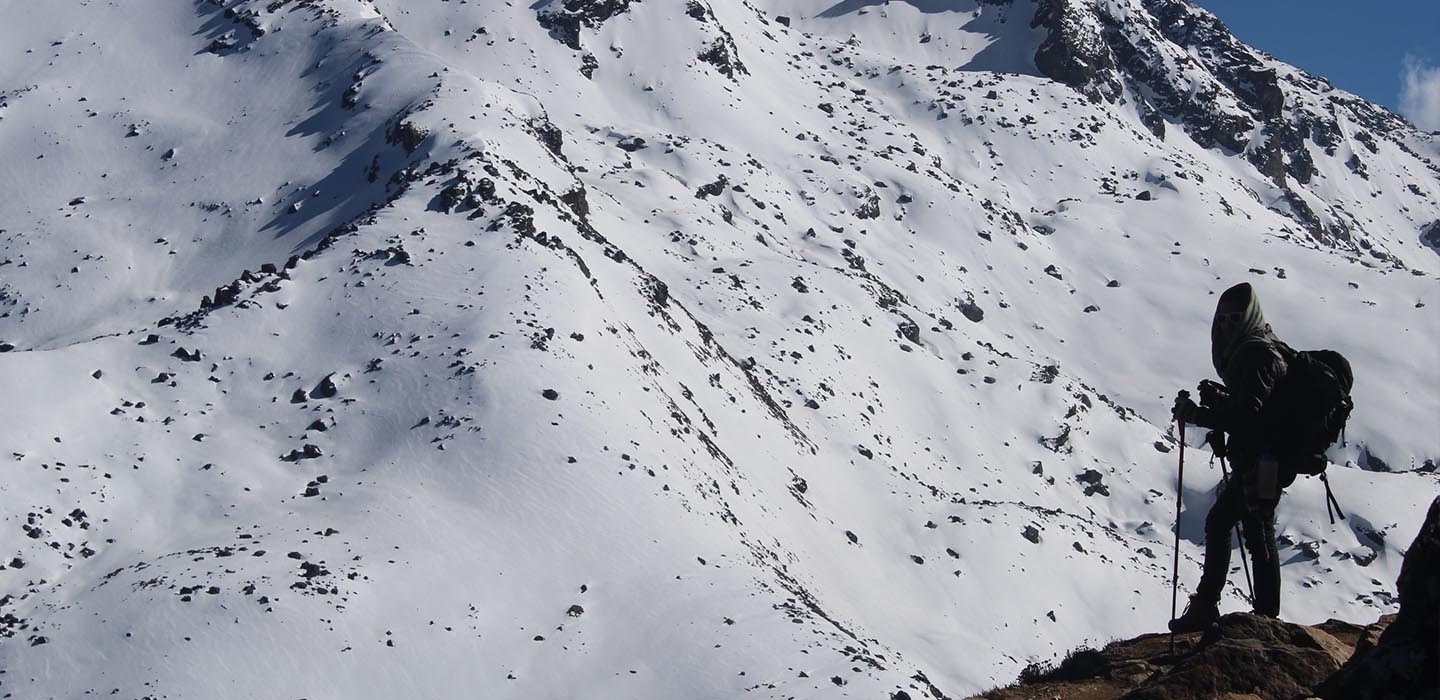 Upon your arrival, a representative from Wild Guanabana will be waiting outside the airport gates to take you to the hotel. Depending on the time of arrival, plans will be made for a briefing meeting once you have settled in.
We'll pick you up from your hotel and hit the road through the terraced fields and villages till we reach Trisuli Bazaar. After lunch, we'll go through the scenic valley until the Tamang settlement of Dunche. We'll walk around, explore and take in the picturesque village and stay overnight in the lodge. (Driving time is approximately 6 to 7 hours).
After a hearty breakfast, we'll leave the village and follow the trail passing the terraced potato fields and cross over a small stream on an old school wooden bridge. We'll go on to climb up a steep ascent through gorgeous forests and a cliff for a striking view of the rocky mountain of Gosaikund deep in the valley. We'll have lunch on an elevated flat area soon after then continue our ascent on a ridge filled with Rhododendrons. Upon completing this ascent, we'll join the path coming from Kyanjin Gompa. After we come to a flank with bare trees, we will arrive in Shing Gompa where there is both a small cheese factory and an old Buddhist monastery which we'll visit this evening. We'll stay overnight in the lodge. (Walking time is approximately 5 to 6 hours).
Today's climb trail is steep up the ridge, which creates a transition zone between the rich, moist forests on the northern slopes, which is the sanctuary for the red panda, an endangered species that the Nepali calls cat bear, and the dry scrub vegetation on the southern slopes. We'll reach Chalang Pati and then we'll enter the peaceful Goisakund protected area where animal killing, lighting wood fires and grazing goats are prohibited. As the trail steeply takes us up to Laurebina Yak (3920m), you will enjoy the ravishing views of Annapurnas, Manaslu, Ganesh Himal, and Langtang lirung. We'll stay overnight in the lodge. (Walking time 3 to 4 hours).
We'll start the day off by climbing further along the ridge till we see the first lake at around 4100 meters. The trail now leaves the ridge and heads high above the Trisuli valley. After the trail crosses a spur, the second lake in the chain (Bhairav Kund) comes into view. We'll then eventually get to the third and largest lake known as Gosainkund (4460m), which takes about 40 minutes to walk around. Goisakund Lake has a black rock in the middle, said to be the head of Shiva. Legend has it, Shiva created the lake when he pierced a glacier with his trident to obtain water to quench his thirst after consuming poison. Hundreds of pilgrims come here to worship and bathe during the full-moon festival each August. We'll stay overnight at the teahouse (Walking time is approximately 3 to 4 hours).
The path skirts the northern shore of Gossainkund and climbs along a rough trail, marked with rock cairns, towards the Laurebina La pass (4,610m). The descent from the pass can be very difficult and caution is advised. The descent is initially very steep but levels out slightly after a while, following a 'middle' valley then taking the lower trail to Phedi (3,500m). The trail from here is no less difficult with a dramatic drop to the right. Through forest and ravines, we finally reach the head of the valley. Then, atop a spur, we come across the first glimpse of our overnight destination, Ghopte. After dark, from Ghopte, we can see the lights of Trisuli Bazaar far below. Stay overnight in Lodge. (Walking time 06/07 hours).
Having left the big mountains behind a series of foothill ridges now dominate the landscape. We have a short day's trek through the alpine landscape. Soon we meet the trail that merges with the Helambu Circuit. Tharepati is at a short way further along, perched on the crest of the hill. Stay overnight in Lodge. (Walking time 02/03 hours)
A comfortable day's walk along a well-defined path. Via Mangengoth (3,150m) we climb again to a saddle adorned by fluttering prayer flags. An hour from Mangengoth, the forest opens onto a wide hillside and we reach another trail junction. Ahead is the Tamang village of Kutumsang, its ridge-top location giving way to terraced fields on either side. Stay overnight in Lodge.
From Kutumsang, in the early morning, we can see the sunrise over the snowcapped mountains. After breakfast, we start our trek to Chisopani (2194m). It takes about six hours to reach. Chisapani is another viewpoint of sunrise and sunset. Besides, we would explore the tribal culture and mountain lifestyle. Overnight at Chisopani.
Chisopani is one of the best places from where one can enjoy superb views of the Himalayas. Wonderful hills and sunrise/sunset views can be seen. You will see the Tamang Habitants and will follow the trail across the Mulkharka and Shivapuri National Park. Then drive Sundarijal to Kathmandu which takes approximately an hour from Sundarijal.
We will transfer you to the airport and assist with check-in procedures

Weather
Langtang is a hike that can be done anytime of the year except during June to August which is the monsoon season, so it is very difficult to go during these months. Peak season is in October as this offers the best weather, sunny and not too cold at night. This lasts till December when the winter season starts running through February. Winter season offers pretty cold nights and moderate temperatures in the morning of around 20c at lower altitudes and can reach to -10 at higher altitudes. March to May is when spring starts and the temperatures start to rise up to 30c with clear skies and blossoming flowers. April and May are the climbing season for mountaineers who are attempting higher mountains in the region especially Everest.

Accommodation
In the city you will be staying in the center of the Touristic area in Kathmandu where you will just step out of your hotel and find all the hussle and bussle of Kathmandu's Thamel. You will be hiking from one village to the next and spending your nights in tea houses which are family owned guest houses for trekkers passing along the way. Rooms are double or triple with beds and blankets to keep you warm. All tea houses have a main room where all hikers gather for meals, briefing, playing card games or just to chill. They are all heated with a huge fireplace in the center so you will definitely be warm. All of them have wifi available for purchase as well as electricity (at an extra cost) for those who want to charge their cameras, phones...etc. Most of them also sell snacks, energy bars, juice and water.

Food
During the hike, you will have 3 meals, all energy based to help give you the required nutrients for hiking around 7 hours a day. Breakfast and dinner are prepared by the tea houses and lunch is taken at other guest houses along the way while hiking. Nepali mountain food is very delicious and has its own flavor, we recommend you go for the Dhal Bat which is a typical Nepalese dish and very high on energy. Try to stay away from any meat during the hike.

Hiking
You don't need to be an experienced hiker nor an olympic runner, but you do need to be fit enough to hike for 6-7 hours daily, sometimes going up stairs, sometimes slopes and sometimes just crossing bridges. It is not a super difficult hike but it's not easy either so it's better to be well prepared to be able to enjoy the hike more. The rewards you will get after completing each day will keep you motivated for the next.

Altitude
At a maximum altitude of 4600 meters, you might feel some mild symptoms of altitude sickness. However, this trip is designed to help you acclimatise in the best way possible to avoid any serious problems. You will be gaining more altitude each day as you go higher but at a moderate speed so your body will have enough time to get accustomed to the lower oxygen levels

Terrain
The scenery on this hike is breathtaking and indescribably beautiful. You will be passing along many ecosystems on this hike, this makes the hike a lot more interesting with a constant change in scenery.
best time to travel:
Jan
Feb
Mar
Apr
May
Jun
Jul
Aug
Sep
Oct
Nov
Dec
Ideal time to travel
Good time to travel
Unpredictable time
No trip
PRICE INCLUDES



Meals as mentioned in the itinerary (Breakfast = B, Lunch = L, Dinner = D)
Arrival and departure by Private Car
Free use of our Trekking Duffle Bag
Transportation from Kathmandu to Dhunche and Sundarijal to Kathmandu by Jeep or Private Bus
Accommodation in "Tea Houses" or lodges based on a double or triple basis
Porters to carry all personal gear and group equipment
Experienced English-speaking guide and first aid trained local guide
Trekking map and permit (Everest Conservation fee)
All porters are first-aid trained with access to becoming a guide within the organization
PRICE EXCLUDES
International flight
Visa Fee
Excess baggage & Airport Taxes

Single Supplement fee
Personal & Travel insurance
Vaccinations (We send a detailed list)
Bottled Beverages
Gear rental available at additional cost (Let us know if you would need any)
Tips and Gratuity