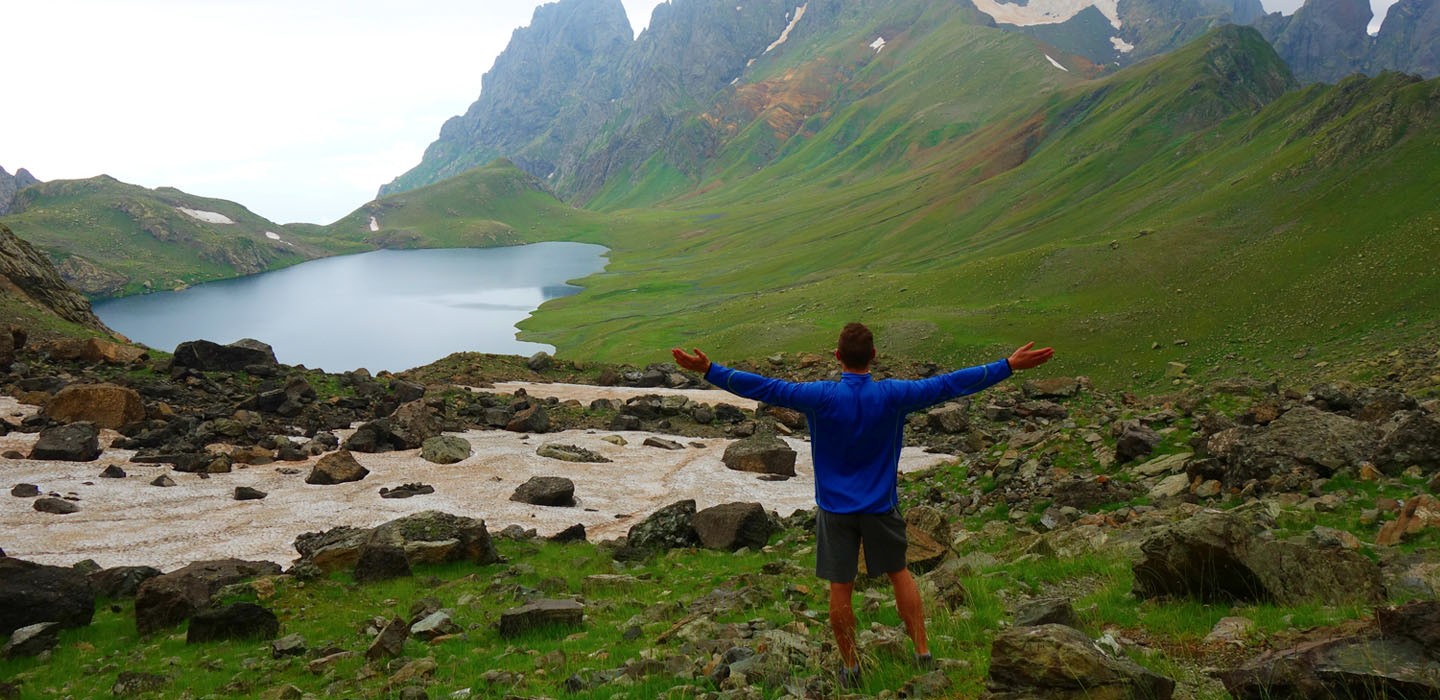 Arrival – meeting at Tbilisi international airport and drive to Kutaisi accommodation in a hotel.Tour details: - The way by minivan –280 km (3-4 hours )
After the breakfast, group will meet the guide and his/her assistant. Following the examination of hiking equipment, the group will depart for the village Mukhuri (by minivan or minibus). On the way, tourists will stop by one of the most visited places in Georgia - Martvili(Gachedili) canyon. After the dinner, you will drive from village Mukhuri to the camping area by truck (due to poor road conditions, it takes 3-4 hours to cover 34 km section of the road). On the road you will visit Shurubumu cave, Gunji waterfall and stunning gorge of KobistskaliRiver. In the evening we will meet local horse breeders, set up a tent, set fire, have supper and relax. Tour details: - The way by truck – 32 km (3 hours) - Hiking – 1 km (20 minutes) - Total altitude difference - 150m-1900m
Breakfast (07:00-08:00) After the breakfast the group, without luggage, will take the path to small Tobavarchkhili Lake. On the way guests will see the most beautiful panoramic views - mixed forests, alpine and sub-alpine meadows and amazing snow-capped passes. On the way, the group will stop to have a snack. The camp will be set up near the small Tobavarchkhili Lake, where travelers can swim, explore and enjoy the spectacular views of the lake surroundings. In the evening you will have a supper and a well-deserved rest. Tour details: - Hiking – 9km (4-6 hours) - Total altitude difference – 1900 m-2750 m-2545 m
Breakfast (09:00-10:00) After the breakfast the group, without luggage, will take the path to big Tobavarchkhili Lake. On the way travelers willsee picturesque rocky massif and pass, which connects small and big Tobavarchkhili Lakes. The camp will be set up close to big Tobavarchkhili Lake, where we will have a dinner, explore surroundings of the lake and watch the charming sunset. In the evening travelers will have a supper and needed relaxation. Tour details: - Hiking – 4km (2-3 hours) - Total altitude difference – 2545 m-2900 m-2650 m
Breakfast (09:00-10:00) This day will be dedicated to the full exploration of Tobavarchkhili environs. We will visit and enjoy astonishing views of Didghele, Kaliashi and Tsakatskali lakes. From this place, travelers can see widely Show renowned Svaneti Mountains, as well Europe's highest peak – Elbrus. Rock climbing enthusiasts can climb Mount Chitagvala - 3225 m (B-2 level of difficulty). In the afternoon we willreturn to the camp, where we will have dinner and have free time to relax and have fun before supper. Tour details: - Hiking – 5km (3-5 hours) - Total altitude difference – 2650m-2800m-2500m-2650m
Breakfast (09:00-10:00) After the breakfast, via striking path we will descend to the local nomadic shepherds' dwellings. On the way, we will explore fascinating waterfall of Toba. In the afternoon localshepherds will host us with ecologically clean diary and extremely delicious Megrelian dishes – elarji, gebzhalia, ghomi with sulguni cheese, goat barbecue. The camp will be set up near shepherds' dwellings, where we willset fire and have deserved supper.Tour details: - Hiking – 5km (2-4 hours) - Total altitude difference – 2650m-2130m
Breakfast (09:00-10:00) After the breakfast, group of travelers will go along stunning gorge of Magana River, which is rich in endemic species of plants and mixed forests. We willspend the afternoon in the camp, near the confluence of Magana and Jalara rivers. Here we set up tents, set fire, have supper and relax. Tour details: - Hiking – 9km (4-5 hours) - Total altitude difference – 2130m-1000m
Day 8- Breakfast (07:00-08:00) After the breakfast, travelers will head to summer pastures, called" Kirnakhona". From here travelers can witness incredibly beautiful lowland of ancient and legendary Colchis. Here, we will have a dinner and later we will descend to the village Skuri by truck, where we meet the minivan and drive to the coastal city, prominent for electronic music festivals – Anaklia. Travelers will have supper in Anaklia and later will go to the beach. Overnight will be in a guesthouse in Anaklia. Tour details: - Hiking – 11km (4-6 hours) - Total altitude difference – 1000m-1250m-1750m - The way by truck – 18km (an hour) - The way by minivan – 65km (1hr 30min)
Breakfast The group will depart to Kutaisi by minivan or minibus. Guests will visit UNESCO world heritage cultural sites: Gelati monastery and Bagrati cathedral. After the dinner, travelers will see marvelous Prometheus caves, which is about 30 minutes drive from Kutaisi. In the evening we will have a farewell dinner Stay in hotel. Tour details: - The way by minivan – 190km (3 hours)
Breakfast Drive to Tbilisi . Night in Tbilisi HotelTour details: - The way by minivan – 250 km (3 hours)
Breakfast Drive to Tbilisi airport

Weather
The ideal time to take this trip is from the second week of July until early September. The official season is from the beginning of June (when the lake is still frozen), up until late September, but the ideal period is when there is the least amount of rain and clear/stable weather. Expect it to be sunny and warm during the day with relatively cold nights.

Accommodation
On the first day, we will be staying at a comfortable hotel in Kutaisi with warm meals, showers, and pleasant rooms. Once we leave the city behind, we will be staying in tented camps throughout the hike until we return once again to the city. Our experienced guides and assistant guides will be taking every step to ensure your stay is as comfortable as possible, from the delicious and fresh food to the camping areas we will be sleeping at.

Food
During the hike, you will have 3 meals, all energy based to help give you the required nutrients for hiking around 4-8 hours a day. (Need to contact supplier to know exact food)

Hiking
You don't need to be an experienced hiker to go on this trip. While it will be challenging if it is your first ever hike, some multi-day hiking experience before departing would make this trip more enjoyable.

Altitude
At the relatively low altitude of 2700 meters, you can expect to feel almost the same as at sea level.

Scenery
Endless green meadows, dramatic mountain faces, and the unique broad-leaved forests make the scenery during this hike unparalleled anywhere else in the world.
best time to travel:
Jan
Feb
Mar
Apr
May
Jun
Jul
Aug
Sep
Oct
Nov
Dec
Ideal time to travel
Great time to travel
Unpredictable time
No trip
PRICE INCLUDES
Meeting and transfer to the airport
Travelling by minivan
Baggage carrying by horse during the whole tour
Guide & assistant service
6 nights accommodation in tents
3 nights accommodation in hotel
2 night accommodation in guest house
Meals as mentioned in the itinerary
First-aid kit
Entry fees for Martvili (Gachedili) canyon and Prometheus cave
PRICE EXCLUDES
International flight
Visa Fee
Airport Tax
Excess baggage & Airport Taxes
Single Supplement fee
Personal & Travel insurance
Vaccinations (We send a detailed list)
Bottled Beverages
Gear rental available at additional cost (Let us know if you would need any)
Tips and Gratuity